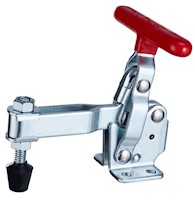 Toggle clamps are frequently used with workpieces in the manufacturing sector. The workpiece will be secured so that it may be worked on while remaining still. The workpiece can then be cut and drilled by manufacturing companies without concern for it moving. If you've never heard of toggle clamps before, there are a few things you should be aware of.
A Toggle Clamp: What Is It?
A toggle clamp is a device that's used to hold a workpiece in a place. It has a clamping arm that resembles a lever and is attached to a horizontal mounting bracket, as seen in the diagram to the right. The toggle clamp will deliver a clamping force to the underlying workpiece when the clamping arm is depressed, holding the workpiece in place. When you pull up the clamping arm, the clamping force will be released so that the workpiece can freely move.
Some of the benefits of using a toggle clamp include the following:
Makes it easier to resize or reshape workpieces
Lowers the risk of injury
Allows for more precision when making cuts
Improved ergonomics
Simple to use
Requires little to no maintenance
Understanding Clamping Force
To hold workpieces in position, toggle clamps all employ a clamping force. The toggle clamp's clamping force is the amount of pressure it applies to the workpiece that it is holding. The clamping force will exert more pressure the higher it is. A few toggle clamps use two clamping pressures, so keep that in mind. A toggle clamp will only exert one clamping force if the clamping position is fixed. However, those who use a threaded spindle often use two clamping forces: one for the arm's inner end and another for its outer end.
Various Toggle Clamp Types
Toggle clamps come in a variety of varieties. The horizontal type is one of the most popular. As implied by their name, horizontal toggle clamps have a horizontal mounting bracket. The mounting bracket and the arm are both horizontal when they are locked into place.
Toggle clamps come in both horizontal and vertical varieties. The way that vertical toggle clamps work is similar. But when the arm is set in a locked and clamped position, it stands up straight.
Push-pull toggle clamps are a third variety. The arm of push-pull toggle clamps travels horizontally, which makes them special. A push-pull toggle clamp can be locked or unlocked by pushing or pulling the arm horizontally.