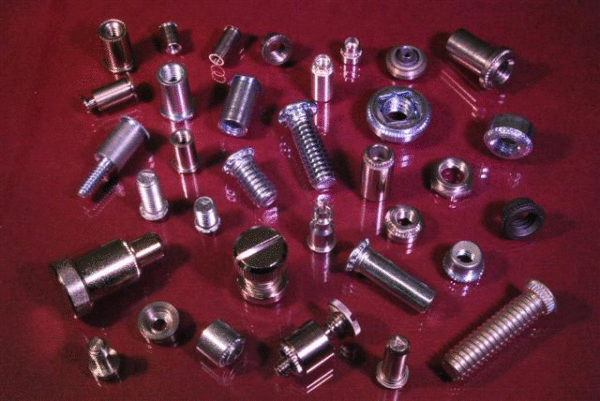 MRO Hardware is part of the OneMonroe family which is also a leading supplier of self clinching fasteners, rivets, spacers, and much more. These products are available for sale 24/7 from JHP Fasteners which is part of the OneMonroe family and has been selling specialized fasteners for more than 50 years.
Self Clinching Fasteners
Self-clinching (captive) fasteners offer a reliable and affordable alternative to welding for joining components together. Self-clinching fasteners are positioned precisely in the installation holes that have already been punched, drilled, or machined into a part. They are intended to be pressed into these holes. As a result, they become a crucial component of the manufactured assembly.
Options for Self Clinching Fasteners
We provide self-clinching captive fasteners  in a wide range of sizes and configurations. We can aid in the evaluation of your application and offer you the ideal clinch fastener for your project's requirements. We provide the following standard captive fastening options:
Self Clinching Nuts
There are a number of things to take into account when choosing self-clinching nuts for your application. These factors include the ductility, thickness, and planned use of the nut, as well as the metal into which they will be placed.
Self Clinching Studs
A self-clinching stud is made to permanently attach to the component or part it is placed into as a male thread. To fulfill the particular requirements of your application, they are offered in a variety of sizes, styles, and materials, such as aluminum, steel, and stainless steel.
Self Clinching Standoffs
On printed circuit boards (PCBs) and other electrical assemblies, these fasteners can shield delicate circuitry and electrical contacts. For mounting these and other gear that you want to elevate from the assembly's parent material, self-clinching standoffs offer a sturdy foundation.
PC Board Self Clinching Fasteners
These fasteners are intended to join a metal chassis, a PC board, or another component. They come in brass, phosphor bronze, carbon steel, stainless steel, and some of them are solderable.
Self Clinching Panel Fasteners
With the help of the captive fastening built into the assembly, this industrial fastener allows for the permanent attachment of a screw assembly to a sheet metal panel.
Self Clinching Pins
These captive fasteners function similarly to self-clinching studs but offer a male pin that is permanently inserted and has a specific diameter. When aligning other components for assembly, a particular kind of self-clinching pin is frequently utilized as a guide pin.
What is the Process of Self Clinching Fasteners?
When inserted, a self-clinching fastener, also known as a "captive fastener," transfers the host material around the mounting hole into a special annular depression in the fastener's shank, preventing pushout. The fastener's serrated clinch contour resists rotation once it has been introduced into the host material. Once the self-clinching fastener installation is complete, it practically becomes a permanent component of the base material.
For more info about self clinching fasteners or to learn what all OneMonroe has to offer please reach out to you sales rep or contact us today.